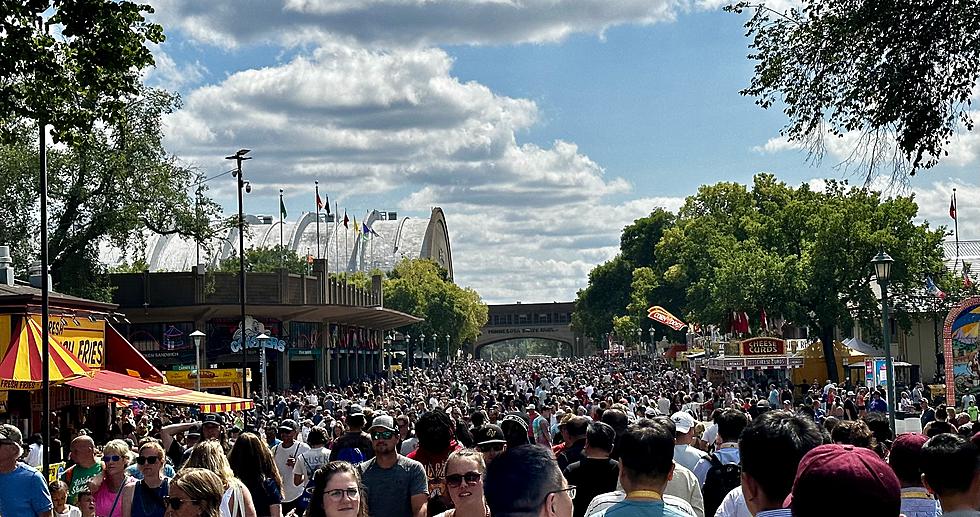 Fair Food Fortune: Vendors That Made More Than $1-Million at the MN State Fair
Minnesota State Fair, Sunday August 27, 2023 (Aaron Galloway/Townsquare Media)
The Minnesota State Fair attracts more than 2 million people each year. Those visitors come for ag exhibits and animals, music and entertainment, attractions and rides, and food – lots and lots of food!
Fair Food is a big business. The top vendors earn big bucks during the 12 days of the Great Minnesota Get-Together. See which ones are raking in the most money below.
Minnesota State Fair Food!
There are more than 500 things to eat at the Minnesota State Fair, including dozens of things on a stick, and several new foods and drinks are added to the menu each year.
Everything on a Stick - Every true Minnesotan will start with a Pronto Pup, but you can also get a steak dinner on a stick and spaghetti and meatballs on a stick. Here are 73 foods on a stick that you can try at this year's fair.
2023's New Foods - Fair Food Vendors are always searching for the next big thing so you'll see a bunch of new items available each year, including the Bacon Wrapped Waffle Dog and the Dill Pickle Cheese Curd Taco. (See all of the new foods below.)
There are also 65 new adult beverages to quench your thirst, including several IPAs and a few booze-filled slushies.
The Highest Earning Food Vendors at the Minnesota State Fair
Sweet Martha's Cookie Jar (3 locations) is the top vendor at the Minnesota State Fair each year. The fresh-baked chocolate chip cookies come in buckets and are delicious.
In 2022, Sweet Martha reported $4.5 million in sales, more than double what the next highest-earning vendor made.
Other top vendors from the 2022 Minnesota State Fair:
Pronto Pups (8 locations) $1.9-million
Mouthtrap Cheese Curds $1.4-million
Fresh French Fries (2 locations) $1.3-million
The American Dairy Association of the Midwest and Corn Roast also made more than $1 million at last year's fair.
New Foods, Drinks, and Vendors for the 2023 Minnesota State Fair
The new foods for the 2023 Minnesota State Fair have been announced! There are also new drinks and a few new vendors to visit.