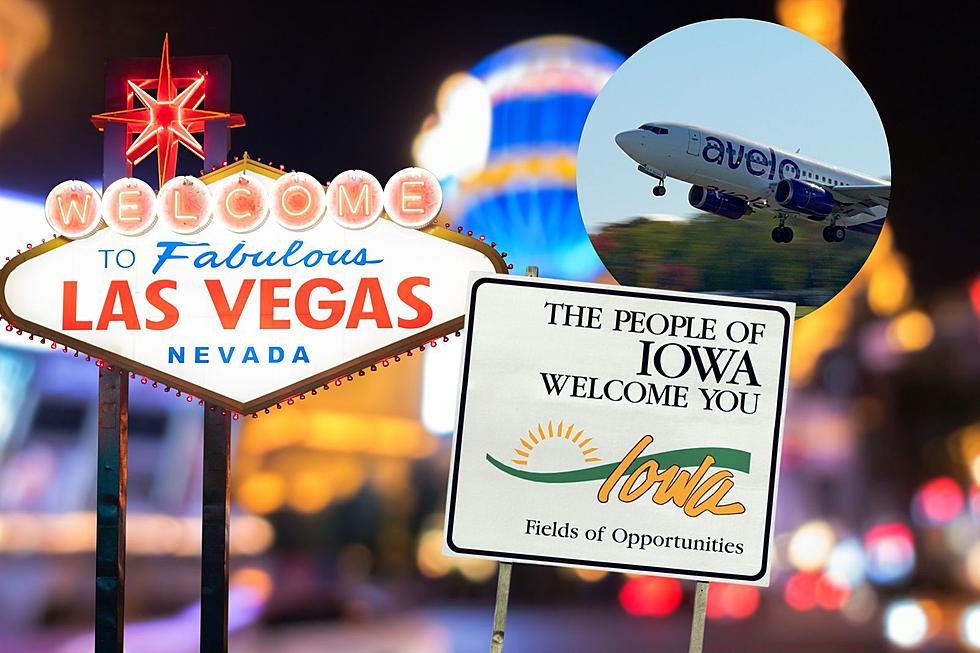 Iowa Casino Partners With Las Vegas Casino For New Nonstop Flight
Avelo Airlines / Bruce Snyder, Canva
It's not hard to find flights to Las Vegas from Iowa, those flights exist in just a few cities. You can look at the Eastern Iowa airport, the Des Moines airport, and even the Quad Cities airport to get those flights but a new Iowa city has direct flights to Sin City.
The Dubuque airport's newest airline, Avelo is offering direct flights to Vegas. But a Dubuque casino has a new partnership with a Las Vegas casino that will help you get there even cheaper.
Iowa Casino's New Partnership With Las Vegas Casino
Q Casino announced new details about its preferred partnership with Palms Casino Resort in Las Vegas.
Members of Q Casino's growing loyalty and player development programs will now have access to expanded benefits when visiting Palms, all of which are now made easier by nonstop and discounted flights between Dubuque and Las Vegas that Avelo Airlines began on September 13, 2023.
Stacy Kansky, Q Casino's Chief Commercial Officer said,
"We are thrilled to align with Palms Casino Resort, where our players can experience the ultimate Las Vegas experience, as well as these new flights, which we hope are the start of restored air service to and from Dubuque. Current Q Casino loyalty club members will be able to enjoy great promotions and opportunities right away. It also gives new players and those in our player development program more benefits to look forward to as well."
Effective immediately, Q Casino's expanded partnership with Palms includes the following benefits for Q Casino loyalty program members based on qualifying criteria:
Access to VIP Group Trips, which can include a cocktail reception and/or dinner on one or more nights, possibly in conjunction with an event or game
Certificates Events where top players can earn trips for a complimentary Palms Las Vegas getaway
Annual Trip Benefit program, whereby players can earn one trip per year to Palms-Las Vegas based on their tier status at Q Casino
Cross-property offers and promotions
Special Palms Experience promotions
VIP Services
 And more...
New Direct Flights To Vegas From Iowa
The new flights from Avelo Airlines, which began September 13th, are offered weekly on Wednesday and Saturday and fly nonstop between Dubuque Regional Airport in Dubuque, Iowa, and Harry Reid International Airport in Las Vegas, Nevada.
Jim Olson, Head of Brand and Communications at Avelo Airlines added,
"We are excited to add an exclusive nonstop route to Las Vegas for our tri-state customers, especially given the expanded partnership between Q Casino and the Palms. Vegas has something for everyone and Avelo's affordability, convenience, and reliability hits the jackpot on getting to this popular destination."
To help celebrate their enhanced partnership, the two casino properties, along with Avelo Airlines, are teaming up to offer a Palms Casino Resort Las Vegas Trip Giveaway for eligible Q Casino Loyalty Program members. In addition, Palms Casino Resort VIP Trip Certificate opportunities will also be made available to eligible Q Casino players in October.
For more information on Q Casino, including details regarding special promotions and the casino's current loyalty and new player programs, visit qcasinoandhotel.com.
Quad Cities Pumpkin Patches
It's pumpkin pickin' time in the Quad Cities. Pumpkins make great fall decorations and they are obviously fun to carve. If buying a pumpkin at a store doesn't cut it and you want the full experience of a pumpkin patch, we have the full list of pumpkin patches throughout the Quad Cities. If we are missing any local pumpkin patches,
email us here.
These 11 Banned License Plates In Illinois Keep It Classy
Illinois residents have requested some raunchy license plates that the state has (not so surprisingly) declined.