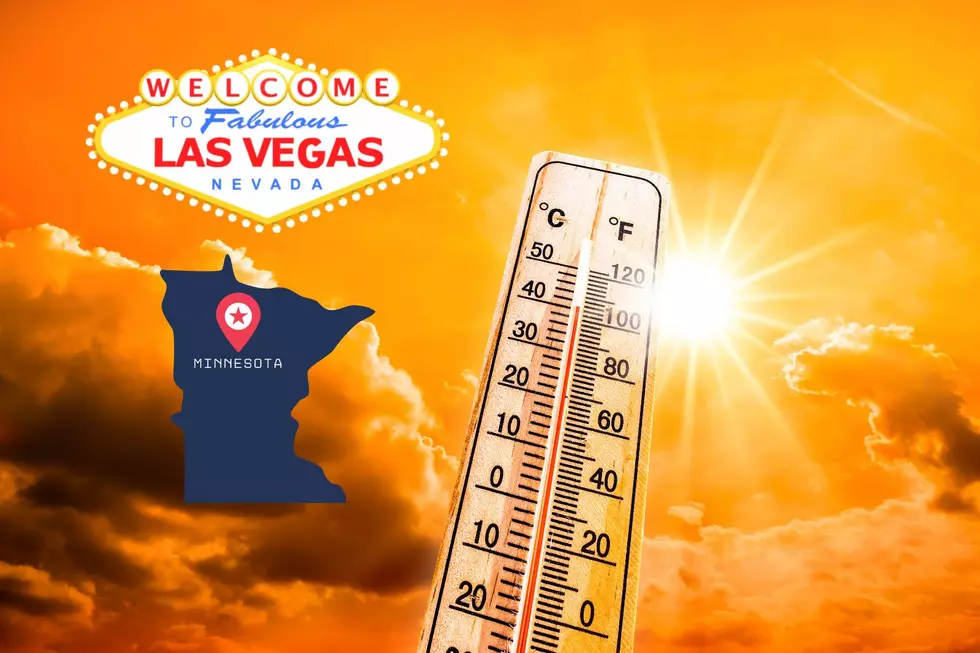 Las Vegas Weather Service Office Just Called Out Minnesota's Heatwave
Canva
Our current late spring heatwave here in Minnesota didn't escape the attention of the National Weather Service office out in Las Vegas.
One of the more interesting parts of living here in the Land of 10,000 Lakes is how we get to experience just about all of the extreme weather Mother Nature can come up with. Besides major earthquakes or hurricanes (neither of which tend to happen much here in the Bold North) we are treated to both bitter cold temperatures and wind chills during the winter, as well as blistering high temperatures, humidity and heat advisories, as we are now.
And the fact Minnesota is sweating through temperatures in the upper 90s to near 100 along with high dew points and humidity for the last official day of Spring didn't go unnoticed by the crew at the National Weather Service office out in Las Vegas. They noted on their Twitter page recently how Minnesota's weather was actually 9 degrees hotter than it was in Las Vegas on Sunday and asked if we were 'doing okay up there.'
Of course, the gang here at the National Weather Service office in the Twin Cities responded by saying, 'We're loving it. Right, everybody?' in response to the much-cooler-than-normal weather that was happening out in the Nevada desert.
However, the Las Vegas meteorologists didn't necessarily buy that response, noting that 'We're getting the feeling that your followers aren't quite as excited about your heat wave as we are about our cool down...but that's just a hunch.' They then concluded by sending 'cooler thoughts your way.'
Our temperatures HAVE been way above normal both the past few days in Minnesota. In fact, our average high for June 20th in Rochester is just 79 degrees-- suffice it to say it'll be just a bit steamier than that on Monday. Of course, while it was cooler in Las Vegas Sunday, it looks like their forecast is calling for high temperature back near 100 later this week as well.
Listen to Curt St. John in the Morning
Weekdays from 6 to 10 on Quick Country 96.5
8 Great Places To Tube This Summer in Minnesota and Iowa
Beat the heat this summer by getting out on the water. Below you'll see the best spots in Minnesota and Iowa to spend the day floating on a tube.
v