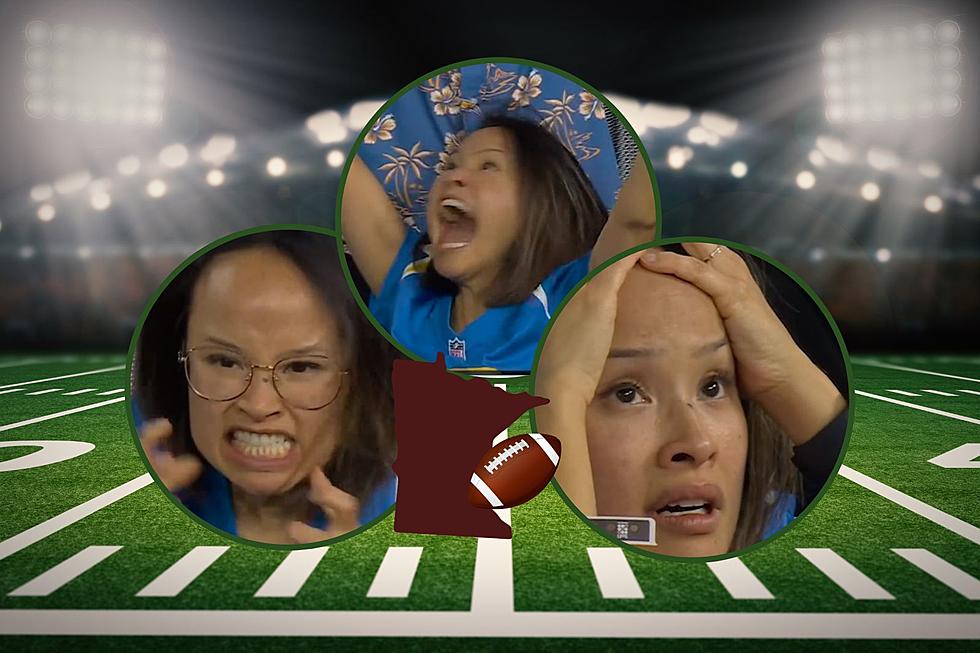 Minnesota Woman is Now a Viral Sensation After Monday Night Football
Sports Center via X / Canva
Even if you aren't a football fan, I'm sure you have a football fan in your life. And football fans can get intense about their team's games. Sometimes too intense. There's a woman from Minnesota who is going viral because of her priceless reactions at a recent game.
The woman's name is Marriane and she's going viral for this:
And this:
And also this:
She's a Chargers fan who was at the Chargers vs. Cowboys game on Monday, October 16th. And she's going SUPER viral. When I typed 'chargers' into Google to get more info about when this game happened the first auto-fill was 'chargers fan'.
People online were loving it and others were wondering if she was a paid actor, according to FanNation. She is, in fact, a real Chargers fan, but other people dug up an old picture of her and are accusing her of being a fake fan!
That's because there's a picture of her with an equally intense face in Vikings getup.
And that's because she's from Minnesota! She did an interview with TMZ where she confirmed that she grew up in Minnesota. She has always been a Vikings fan but is now also a Chargers fan and has lived in California for 20 years.
Kind of rough that she decided to be a fan of two teams that have never won a Super Bowl. It's hard enough to be a fan of one.
30 Hilarious Minor League Baseball Teams That Sound Fake, But Are Actually Real
We went through every Major League Baseball team's Minor League affiliate list to find the most hilariously creative team names and the ballpark promotions they present to their fans. From biscuits to Mullet Thursdays, here are 30 of the best Minor League Baseball team names and ballpark promotions.