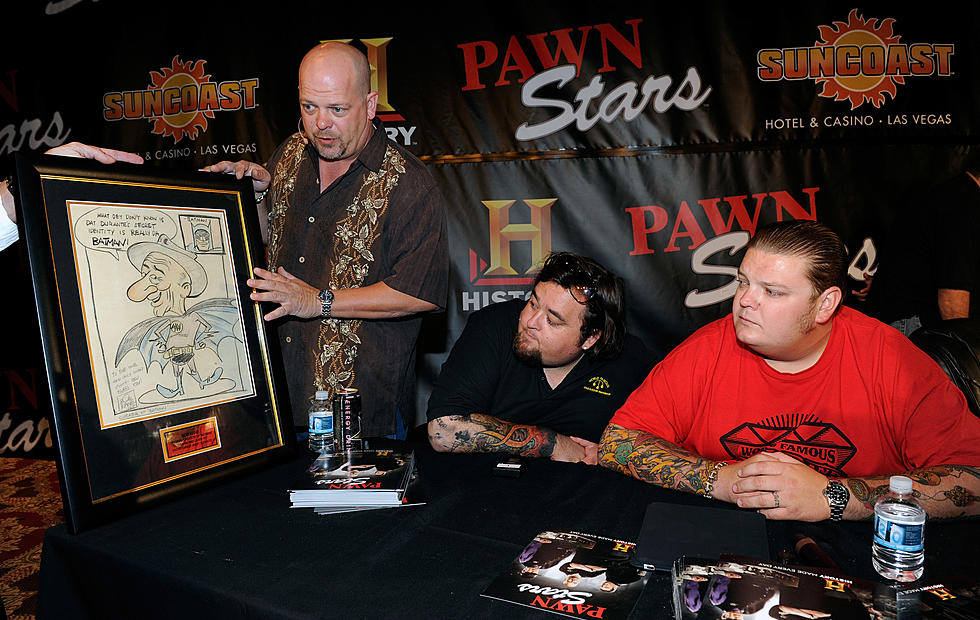 The Pawn Stars Are Coming To Minnesota And Want To Buy Your Stuff
Getty Images
Pawn Stars is one of the most successful History Channel series of all time. The Las Vegas-based show features a unique cast of characters and showcases the daily business conducted at the World Famous Gold & Silver Pawn Shop. Now, after 21 seasons the show's cast is hitting the road and they're coming to Minnesota to film.
It's a fascinating show because the artifacts that customers try to sell are often times historic or one-of-a-kind. The show brings in experts to verify the items are authentic and the viewers get a mini-history lesson.
What Makes The Show Pawn Stars So Popular?
I'm guessing most people haven't experienced a Pawn shop so there's a natural curiosity there that attracts viewers. Also, the products that are highlighted on the show are usually very rare and very interesting. The third, and most important, ingredient is the cast.
Rick Harrison is a part owner and manager of the Pawn Shop and is the lead character. Rick's son Corey also works at the store and their father/son relationship is one of the main storylines. Chumlee is another main character - a goofy coworker who provides plenty of comic relief.  All three are coming to Minnesota later this month.
What Is Pawn Stars Do America and When Is It Coming To Minnesota?
The show is hitting the road and looking to buy your stuff.
The History Channel explains: "For the first time, the "Pawn Stars" are hitting the road to visit some of America's most exciting places in search of historical finds and impressive collectible objects in the new 8-part series "Pawn Stars Do America."
"Each two-hour episode follows Rick Harrison, Corey Harrison, and Austin "Chumlee" Russell as they step out of the World Famous Gold & Silver Pawn Shop in Las Vegas to connect with fans in eight different cities and acquire some of the most remarkable items imaginable."
They'll be filming in Minnesota on August 22-24 & August 29-31 and producers are looking for people that have stuff to sell. You could actually get paid to appear on the show.
How To Be A Part of The Pawn Stars Episode Being Filmed in Minnesota
There are a couple of options for fans that want to attend the taping.
Producers say you can get paid $150 to be a background extra for a full day of taping. You would need to be available at 9:00 AM for the 8-hour episode taping and you would be asked to bring something to sell.  A meal is also provided. You do need to apply to be an extra and to get the chance to sell something to the Pawn Stars.
If you can't commit to a full day, you can go for 1 hour. This isn't a paid position, but you still get the chance to sell something.
Pawn Stars Do America will film in Minnesota on August 22-24 & August 29-31 at "well-known venues" in Minneapolis. Those selected during the application process will receive further instructions.
Byron Minnesota Family Competes on Family Feud
A Byron, Minnesota family recently competed on the game show, Family Feud. Julie Krings, a teacher in Byron, shared her experience with us.