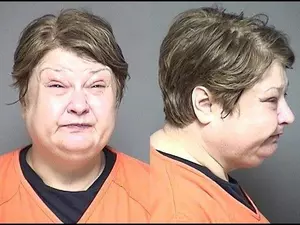 Rochester Woman Pleads Guilty to Crashing into Apartment Building
Debra Rae Jensen-photo from Olmsted County Sheriff's office
Rochester, MN (KROC AM News) - A Rochester woman who crashed her car into an apartment building last August has pleaded guilty to a misdemeanor careless driving charge.
Two other more serious charges against 60-year-old Debra Jensen were dismissed as part of a plea agreement. She pleaded guilty Wednesday and was placed on probation for one year. Restitution in the case will be determined at a later date.
Police say Jensen was parking the vehicle at her apartment complex at 2106 Valleyhigh Drive NW when it accelerated and ended up in the living room of an apartment, about a foot away from a baby who suffered a cut to one of her fingers. A man and woman were in the kitchen at the time. They were not hurt.
At the time, police said alcohol was detected on Jensen's breath and she was given a preliminary test. It indicated her blood/alcohol level was near the legal limit. Officers suspected she may also have been on medication.
The occupants of the apartment she crashed into were forced to go elsewhere as the Fire Department determined the unit was not safe due to structural damage.